Wednesday, 31 December 2008
Published by Leroy Lim under Items Standards on 6:49:00 pm
--
Background Information:
When a player reaches Lv.W1 and above, he or she is applicable to acquire one of the eight amulets by going to the Elite battling Tower and meet Mr.Mosou.
All Concept art of the amulets are out.
We're currently polishing them into CG images.
Introducing the Psychic Amulet[Type-
A
]!
---
Concept Art:
Polished Look: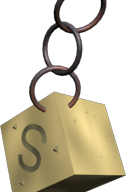 ---
Note: All Amulets acquired from the Mr.Mosou have unknown properties, it is up to the user to discover its potential.